Computational modeling of bone fracture non-unions: four clinically relevant case studies
In Silico Cell and Tissue Science
2015
2:1
Received: 28 October 2015
Accepted: 11 November 2015
Published: 18 December 2015
Abstract
The human skeleton has a remarkable regeneration capacity. Nevertheless, 5–10 % of the bone fractures fails to heal and develops into a non-union which is a challenging orthopedic complication requiring complex and expensive treatment. This review paper will discuss four different computational models, each capturing a particular clinical case of non-union: non-union induced by reaming of the marrow canal and periosteal stripping, non-union due to a large interfragmentary gap, non-union due to a genetic disorder [i.e. NF1 related congenital pseudoarthrosis of the tibia (CPT)] and non-union due to mechanical overload. Together, the four computational models are able to capture the etiology of a wide range of fracture non-union types and design novel treatment strategies thereof. Further research is required to corroborate the computational models in both animal and human settings and translate them from bench to bed side.
Keywords
Computational model
Fracture healing
Non-union
Background
In case of injury, the majority of bone fractures can heal without the production of scar tissue. Unfortunately, fracture healing complications, such as delayed and non-unions, are associated with 5–10 % of the over 6 million fractures occurring annually in the USA [1, 2]. Fracture non-unions are challenging orthopedic complications requiring complex and expensive treatment including multiple surgical procedures and prolonged hospital stay [3–5]. As such, the resulting socio-economic burden is significant and rising according to the 2010 Global Burden of Disease study where musculoskeletal disorders accounted for 6–8 % of total disability-adjusted life years (DALYs) [6].
Although the field of orthopedics has experienced great advancements in the last decades, more knowledge of the complex physiological process of bone healing is a prerequisite for the prevention and effective treatment of complex fractures. (Patient-specific) Computational models have the potential to cope with this complexity. Moreover, computational models can help to integrate all the relevant, patient-specific information into a personalized diagnosis and optimal treatment.
This article will focus on the use of in silico models to improve our fundamental understanding of impaired bone regeneration and to design novel treatment strategies. It will first briefly summarize the biology of bone regeneration, including possible complications and treatment options. Subsequently, the added value of computational models will be illustrated with four different clinical cases of non-unions: non-union induced by reaming of the marrow canal and periosteal stripping, non-union due to a large interfragmentary gap, non-union due to a genetic disorder (i.e. NF1 related congenital pseudoarthrosis of the tibia (CPT)) and non-union due to mechanical overload. Finally, some prospects and conclusions will be formulated.
Biology of bone fracture healing
Normal and impaired bone regeneration
Primary bone healing, during which the fracture will heal similar to the normal bone remodeling process, will only occur under optimal mechanical conditions, i.e. a mechanically stabilized fracture with either extremely low interfragmentary movement or bony fragments that are under compression. The more common type of healing, i.e. secondary bone healing, is associated with a low degree of stability and the formation of a periosteal callus. Briefly, the characteristic course of long bone healing can be subdivided in four main stages (Fig.
1
): (1) the "inflammation phase" where the trauma site becomes hypoxic and is invaded by inflammatory cells, fibroblasts and mesenchymal stem cells, (2) the "reparative phase" which starts with the production of a cartilaginous and fibrous tissue template ("soft callus phase"), later invaded by new blood vessels and replaced by a bony callus through endochondral ossification ("hard callus phase"), (3) the final "remodeling phase" during which the woven bone is replaced by lamellar bone and the vasculature is reorganized.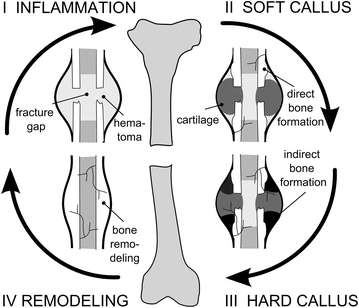 Although bone has a unique restorative capacity, the conditions for spontaneous bone healing are not always present leading to a delayed union or a non-union. The former is generally defined as the eventual bony union after an atypical long period of healing, in comparison to the normal healing period [7, 8]. The latter is characterized by an absence of healing during at least 6–12 months (in humans). The different types of fracture non-unions, i.e. hypertrophic, atrophic or oligotrophic, and synovial pseudarthrosis are classified based on their radiographic and histological appearance [7, 9].
Hypertrophic non-unions are mainly defined by an abnormal vascularity and abundant callus formation. In this type of non-union, the excessive motion at the fracture site prevents the bony bridging although the essential biological factors are present [7]. Atrophic non-unions, however, are the result of inadequate biological conditions. They show little callus formation around the gap, which is mostly filled with fibrous tissue and little or no mineral deposition as evidenced by the blunted bony ends on radiographs [7]. Oligotrophic non-unions combine the radiographic characteristics of atrophic non-unions, i.e. little to no callus formation, with the biological characteristics of hypertrophic non-unions, i.e. normal biological activity [10]. In a synovial pseudarthrosis the fracture gap of the non-union is a fluid-filled cavity with a synovial-like membrane.
Current treatment strategies
Of the classical therapeutic methods currently available to treat non-unions, amputation is the treatment of last resort [11]. Even when other treatment options are available, the choice is complex since at a more phenomenological level the outcome of bone healing depends on many mechanical and biological risk factors, such as excess motion, the interfragmentary gap size [12], the type of fracture [12–14], the particular bone [11], location of the trauma within the bone [11], loss of blood supply [15]. Additional injuries such as severe periosteal and soft-tissue trauma [13, 14] as well as other preexisting patients risk factors including old age [16], cachexia and malnutrition [17], immune compromise [18], genetic disorders (e.g. neurofibromatosis type 1 [19]), osteoporosis [20], anticoagulants [21], smoking [22] and anti-inflammatory agents [23], may also compromise the optimal treatment.
Strategies for hypertrophic non-unions traditionally aim to restore the optimal mechanical environment for fracture healing [7, 24]. Enhanced stabilization and progressive compression such as in the Ilizarov method can allow to convert the abnormal fibrous, cartilaginous and adipose tissues between the mobile bony ends into bone without the need to remove them. In case of plate osteosynthesis a debridement is usually performed as the fracture is exposed anyway, whereas in intramedullary nailing the reaming of the canal contributes to the refreshment of the fracture zone. The key to success either with plates, intramedullary nails or external fixators is the reduction of any excessive motion allowing a sound biomechanical condition for bone healing [7, 24–28].
Successful healing of the more challenging (atrophic) non-unions will, however, not only require the removal of scar tissue and adequate stabilization of the fracture but also biological support (e.g. bone grafting, administration of growth factors) [7]. Large quantities of bone are not only required for compromised bone healing processes, they are also indispensable for skeletal reconstructions of large bone defects created by trauma, infection, tumor resection and skeletal abnormalities [29]. A widely used approach to stimulate or augment bone formation is distraction osteogenesis, a clinical procedure where bone regeneration is induced between two gradually distracted bony surfaces [30, 31]. This principle is applied in the bone transport technique, allowing huge defects to be replaced [32, 33]. However, due to the length of the treatment, as well as the technical demands and complications associated with distraction osteogenesis [30, 31], a number of bone grafting methods are more commonly performed in clinical practice when the defect size is not too extensive. Autologous bone grafting, i.e. the process by which bone is harvested from one anatomical site and transplanted to another site in the same patient, is still considered the "gold standard" since it effectively combines the required osteoinductive, osteogenic and osteoconductive properties [34]. It has, however, several limitations which include donor site pain, increased blood loss, increased surgery times, increased risk for donor site infection and limited supply [35]. An even more complex autologous bone transplant is the vascularized bone graft such as the fibula, which can be used to replace long-sized bone defects [36]. Allogeneic bone grafts, where bone is harvested from human cadavers, sterilized and transplanted to the patient, lack donor site morbidity but are expensive and have an increased risk of viral transmission [7]. Moreover, they have very limited biological activity as they are only osteoconductive without any osteogenic capacity and only sporadically a small osteoinductive capacity. As such they are inappropriate to treat atrophic non-unions. The use of synthetic calcium salt-based bone substitutes is sometimes suggested as an alternative to both autologous and allogeneic grafts since they are inexpensive and lack the risks of donor site morbidity and viral transmission [37]. They are, however, only osteoconductive which limits their potential biological role in fracture healing [7, 38] and as such they cannot be recommended as a stand-alone treatment in hampered bone healing. The use of a "Masquelet-membrane" is to be considered as an enhanced bone grafting method which consists of two steps. In the first stage a polymethylmetacrylate cement spacer is placed in the defect which induces the formation of a vascularized membrane. In the second stage a non-vascularized graft will be inserted in the newly formed vascularized envelope which serves as a source of oxygen, nutrients and a cocktail of important growth factors [39, 40]. Besides bone grafting also bioactive molecules have been used to augment fracture healing. BMP-2 and BMP-7 have been shown to have significant osteogenic and angiogenic properties, which has led to their use in a variety of clinical conditions including non-unions, open fractures and joint fusions [29, 41]. An alternative approach is the local application of platelet-rich plasma, which is rich in many of the growth factors implicated in bone regeneration [42]. Another promising strategy, which could potentially overcome the limitations of current bone regeneration therapies, is tissue engineering where an optimal bone healing microenvironment is created by seeding cells (osteogenesis) and growth factors (osteoinduction) on biocompatible scaffolds (osteoconduction) that will be implanted in a mechanically stabilized defect [43].
In silico modeling of bone fracture non-unions
Over the last decades computational models of fracture healing have progressed from static, linear elastic models to dynamic poroelastic analyses, accounting for callus growth and several biological factors including growth factors, cells and vascularization [
44
]. In this section we will use four different clinically relevant case-studies to illustrate the potential of computational models, initially developed for normal fracture healing, to investigate the etiology and treatment of fracture non-unions (Fig.
2
). For further information on the bioregulatory and mechanoregulatory algorithms used in these computational models we refer the reader to some reviews [
44
–
47
].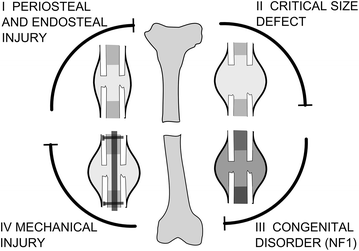 Prospects
The above examples clearly illustrate that in silico techniques are able to investigate the etiology of a wide range of fracture non-union types and design novel treatment strategies thereof. More specifically, the first case-study demonstrated that the computational model can capture the essential aspects of an in vivo atrophic non-union and can help to explain and optimize experimental treatments, i.e. the location of the injection of a cell transplant. Similarly, the predictions of the second case-study showed that the effectiveness of a therapy, consisting of a single injection of osteochondrogenic growth factors, cells or a combination thereof in a large segmental bone defect, is strongly influenced by the (patient-specific) host environment and by the timing of injection. Moreover, case-study four evidenced that, depending on the dominating biology-mechanics interactions that are implemented in the computational model, different treatment strategies are required for the restoration of normal healing. As such, the results of these three case-studies clearly underline the need for patient-dependent modeling. However, at this moment it is not (yet) feasible to link patient-specific characteristics to a particular combination of model parameters (an in depth discussion of the key challenges associated with patient-specific modeling can be found in [65]). Nevertheless, case-study three nicely shows that the current approach can give interesting insights at the population level and represents an important first step towards in silico clinical trials.
The current computational framework has some limitations and the interpretation of the results should therefore be done carefully due to the following reasons. Firstly, the computational model only includes the repair phases of fracture healing, i.e. the soft and hard callus phase, and neglects the early inflammatory response and the bone remodeling phase. Other fracture healing models have accounted for the remodeling phase such as the work of Gómez-Benito et al. [66], Burke et al. [67], Byrne et al. [68] and Shefelbine et al. [69]. Moreover, in the literature also detailed models exist of the bone remodeling process itself, including the studies of Ryser et al. [70, 71] and Buenzli et al. [72–74]. However, none of the state-of-the-art fracture healing models, to the author's best knowledge, captures the inflammatory phase.
Secondly, the presented computational framework requires a simplified and fixed geometrical domain of a fracture callus (Fig. 3). As such, the implementation cannot account for tissue growth during callus formation, although this can be captured in the frameworks of Chen et al. [75], Simon et al. [76] and Gomez-Benito et al. [66]. Moreover, the computational framework only allows 2D or 2D-axisymmetric calculations while others have simulated the regeneration processes in the inter-cortical region in 3D [68, 69, 77].
Thirdly, the computational model is based on experimental data from mouse models since these small animal models are increasingly used in bone healing studies due to their less expensive housing, shorter breeding cycles, well-defined genetic background and available (genetic) methods to study particular molecular mechanisms of action [78]. However, rodents have a more primitive bone structure without a Haversian system and use resorption cavities for bone remodeling, which is different from large animals and adults [78]. Moreover, in order to correctly mimic fracture healing in adults, animals of an age with completed bone growth should be used [79]. Given that the computational model is corroborated with experimental data from mouse models, it is important to keep in mind the differences that exist between murine and human bone healing when extrapolating these findings to a clinical setting. Note that others have used ovine models to explore the predictive power of computational models of bone healing. Moore et al. report for example that the histological measures (amongst others Giemsa-Eosin staining and fluorochrome microscopy) match the predicted gradients in BMP, cells and tissue fractions over time in an ovine critical size defect model [80]. Similarly, Chen et al. corroborate their predictions on the induction of non-unions in large gap sized and different mechanical conditions with experimental results obtained from an osteotomized ovine metatarsus [75].
Despite the above mentioned advances, several steps need to be taken in order to bring in silico models from bench to bed side [65]. These steps include, amongst others, the establishment of patient-specific models as well as their corroboration in both small (e.g. mice) and large (e.g. sheep) animal models and a limited number of patient-specific study cases. Although this road to translation is challenging, we believe that it is important to focus future research efforts to overcome these challenges so that computational models of bone fracture healing are not only used as research tools in the experimental research phase but also aid in the advancement of individualized care and reduction of the associated health care costs.
Conclusion
In case of injury, the majority of bone fractures can heal without the production of scar tissue. Unfortunately, 5–10 % of the bone fractures fails to heal and develops into a non-union. This review illustrated the potential of computational models of fracture healing in contributing to a more profound understanding of the etiology and treatment of fracture non-unions. Four different cases of non-unions were discussed: non-union induced by periosteal and endosteal injury, non-union due to a large interfragmentary gap, non-union due to a genetic disorder (i.e. NF1 related congenital pseudoarthrosis of the tibia (CPT)) and non-union due to mechanical overload. Clearly, a treatment will be most beneficial if it tackles the underlying mechanism of action causing the hampered bone formation. The underlying mechanisms of action are, however, the result of complex non-linear biological and mechanical interactions occurring at various temporal and spatial scales. As such, a rigorous approach where in vivo and in silico methods work in tandem, are essential to deepen our fundamental understanding of (impaired) bone regeneration, to corroborate the existing computational models and to bring novel treatment strategies for challenging orthopedic cases from bench to bed side.
Declarations
Author's contributions
AC, JL, HVO and LG helped to draft the manuscript. AC wrote the manuscript. All authors read and approved the final manuscript.
Acknowledgements
LG and HVO acknowledge the European Research Council under the European Union's Seventh Framework Program ERC grant agreement numbers 279100 and 308223 respectively. This work has also been funded by BOF-KU Leuven GOA project 3M120209 and IWT 110702. AC is a post-doctoral fellow of the Research Foundation Flanders (FWO-Vlaanderen). This work is part of Prometheus, the Leuven R&D Division of Skeletal Tissue Engineering of the KU Leuven.
Competing interests
The authors declare that they have no competing interests.
Open AccessThis article is distributed under the terms of the Creative Commons Attribution 4.0 International License (http://creativecommons.org/licenses/by/4.0/), which permits unrestricted use, distribution, and reproduction in any medium, provided you give appropriate credit to the original author(s) and the source, provide a link to the Creative Commons license, and indicate if changes were made.
Authors' Affiliations
(1)
Biomechanics Section, KU Leuven, Leuven, Belgium
(2)
Prometheus, Division of Skeletal Tissue Engineering, KU Leuven, Leuven, Belgium
(3)
Department of Orthopaedics, University Hospitals of KU Leuven, KU Leuven, Pellenberg, Belgium
(4)
Biomechanics Research Unit, Department of Aerospace and Mechanical Engineering, University of Liege, Liege 1, Belgium